Keurig coffee maker
A Keurig coffee maker is one of the most innovative brewers on the market today.  Keurig, Incorporated leads the pack with their patented single-cup coffee brewing technology.  In less than one minute, coffee lovers are enjoying a fresh, hot cup of coffee, tea, or hot chocolate in their favorite flavor and size.  That is a lot less time than it takes to leave home, travel to the local specialty coffee shop, stand in line, order your coffee, pay for the coffee and then finally be on your way with your hot cup of coffee.
With each of the Keurig home brewing coffee makers, there's no need for grinding beans, measuring the ground coffee, no mess and literally no clean up, since there aren't any filters to change.  Keurig has patented their K-Cup® portion packs which contain gourmet brands of coffee, tea, and hot chocolate and offer over 190 choices in all.  The K-Cup® itself is an innovative marvel.  It is a contained mini brewer that contains just the right amount of coffee, tea or hot chocolate.  Pressurized hot water flows through the K-Cup®, producing a flavorful and hot cup of coffee, a single cup at a time.  The K-Cup® has a filter built-in, so you just pop out the empty container and throw it away.
The coffee K-Cup® flavors include light, medium, extra bold, dark, flavored, decaffeinated, organic and fair trade.  Enjoy coffee by Emeril, Green Mountain, and Newman's Own Organics, among others.  Black tea, green tea, herbal tea, and decaffeinated tea are the K-Cup® choices, created by gourmet names such as Gloria Jean's and Bigelow, to name a few.  Popular brands like Ghirardelli® and Green Mountain offer deliciously creamy choices of hot chocolate K-Cups®.
Keurig offers three gourmet coffee brewers exclusively for home use.  The Special Edition B60 Brewer offers three brew size choices, so each coffee drinker can have as little or as much coffee as they need in the morning.  The removable 48-ounce water reservoir and removable drip tray are both easily washed and returned to the brewer.  You can program this single-cup brewer to brew a specific amount of coffee (ounces) and the time you want it to brew.  Chrome accents compliment every décor nicely.  This style fits most budgets at around $149.95.
The Keurig Elite B40 Brewer is the lowest priced style at $99.95.  However, it isn't programmable and offers two instead of three brew sizes.  At the top end is the Keurig Platinum B70 Brewer with four brew size choices, a removable 60-ounce water reservoir, removable drip tray, and a programmable message center that allows you to set the brewing time and brew size.  This model features Keurig's Quiet Brew™ Technology, making it the quietest single-cup brewer Keurig has made to date.
In short, a Keurig coffee maker will allow you to brew a single cup of your favorite from almost 200 styles of coffee, and have it come out tasting perfect every time.
---
The Keurig K79 Platinum Brewing System Review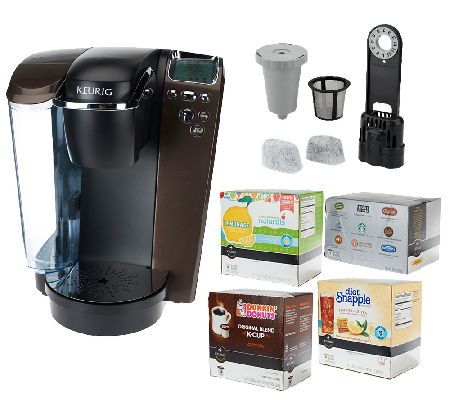 Nothing would please you more than a coffee machine that brews fresh coffee within a minute. The Keurig K79 Platinum Brewing System is such a coffee maker that will quench your thirst for a wonderful coffee in the morning. This is a single serve coffee maker that uses K-Cups. The coffee maker is perfect for you if you can't wait for a longer time to get your coffee brewed. It is very simple to use, all you need to do is press the brew button and wait for some time.
The device comes with a water reservoir of 72oz to give you delicious cups of coffee one after the other giving you choice of five cup sizes i.e. 4oz, 6oz, 8oz, 10oz, and 12oz. It works on Quiet-Brew technology. It is an amazing coffeemaker for the people who live alone and also for families.
Not just coffee, but you can also make tea, hot cocoa and other refreshing beverages. Here we will talk about Keurig K79 Platinum Brewing System that we had a detailed look at.
Construction of Keurig K79 Platinum Brewing System
It consists of a water reservoir of capacity 72 ounces, big enough to give you delectable cups of coffee one after the other. There is also an easy to read blue backlit LCD display to help you with your brewing along with a digital clock, programmable on/off and one-touch control panel. Its removable drip tray helps you in easily cleaning the device. It also gives you five brew-size options and adjustable brew temperature.
The coffee machine comes with a rinse button to clean up the device easily. There is a separate chamber for the coffee grounds in which you can put the coffee grounds of your choice. There are descale indicator, blue-lit removable 60-ounce water reservoir and all its parts are dishwasher-safe. It uses patented K-Cups to make a coffee.
How to use Keurig K79 Platinum Brewing System
This coffee maker can brew coffee for you within a minute after you press the brew button. To make coffee using this coffee maker, you only have to put some water in the 72oz water reservoir. Then, the coffee grounds are to be kept in the separate chamber from where the hot water from the water reservoir will be allowed to pass through it directly into your K-cup within a time span of less than a minute.
It works on Quiet Brew technology to give you a cup of coffee while you can relax. The cleaning process of the Keurig K79 Platinum Brewing System is also very easy as you only have to press the rinse button and 4 oz of hot water is dispensed from the water reservoir in order to clean between cycles.
Features of Keurig K79 Platinum Brewing System
The machine has got a beautiful design with a blue backlit LCD display that makes its look even pretty.
There is a large water reservoir in it and hence, you can get as many cups of coffee as you want.
It is very easy to be used as you only have to press a button and your coffee will be ready in just a minute.
It comes with five cup options, i.e. 3.25oz, 5.25oz, 7.25oz, 9.25oz and 11.25oz.
The Keurig K79 Platinum Brewing System also gives its user brewing temperature selection option.
It also comes with an automatic shut-off that will shut down the device after the user-selected amount of time from the last brew (1-9 hours).
Its rinse button dispenses 4 oz of hot water from the water reservoir to clean the machine between cycles.
Apart from coffee, you can also make tea, hot cocoa and other refreshingly delicious beverages with it.
It comes with adjustable temperature selection option and digital clock.
Drawbacks of Keurig K79 Platinum Brewing System
It doesn't come with a space-saving design.
Some water is seen accumulating in the bottom of the water reservoir which can be a condensation issue.
It takes few minutes to heat up from inside to be able to heat the water for brewing.
You will have to use multiple K-cups to get a big cup of strong coffee.
Our Verdict
We feel that the Keurig K79 Platinum Brewing System can satisfy your need for a delectable cup of coffee more than just being good. It won't disappoint you at all if you have coped drip and pour over coffee makers. If saving time and getting an amazing cup of coffee is your foremost priority, then, we would suggest you to buy it and try it.